Some belated morning reads (blame Anna for partying too late on a school night!):
• Very slow growth 2012 then long bear to 2020 (Market Watch)
• BofA Warned to Get Stronger (WSJ) see also 'Lazy' Banks Make Sense (WSJ)
• EU/ECB Two-fer:
…..-Why the ECB Won't (and Shouldn't) Just Print (Hussman Funds)
……-Johnson: Deutsche Bank Could Transfer Financial Contagion (Bloomberg)
• Baum: Supercommittee Fails to Identify Even Bogus Cuts (Bloomberg)
• Economic inequality is growing, a Fed blog says (LA Times)
see Fed Study: Job Polarization in the United States (Fed NY)
• Debtor Arrests Criticized (WSJ)
• Tavakoli: MF Global Revelations Keep Getting Worse (Jesse's Cafe Americain) see also Legal Stealing  Infamous CFTC Rule 1.29 (The Golden Truth)
• Apple May Have Won The PC War… By Losing The Windows Battle (Tech Crunch) see also The MacBook Pro Shrinks, iPad And iPhone Grow (Tech Crunch)
• Separating You and Me? 4.74 Degrees (NYT)
• Top 10 Things We Learned about David Letterman in Rolling Stone (Parade)
What are you reading?
>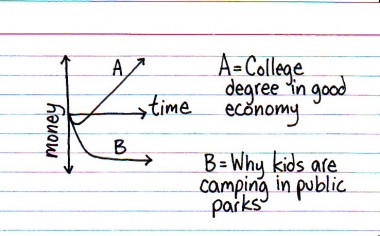 Via Indexed
Category: Financial Press
Please use the comments to demonstrate your own ignorance, unfamiliarity with empirical data and lack of respect for scientific knowledge. Be sure to create straw men and argue against things I have neither said nor implied. If you could repeat previously discredited memes or steer the conversation into irrelevant, off topic discussions, it would be appreciated. Lastly, kindly forgo all civility in your discourse . . . you are, after all, anonymous.
25 Responses to "10 Tuesday Reads"