The New Logo For the US Spy Satellite From the National Reconnaissance Office Is Eerily Similar To American Depiction of Communism In the 1950s
Jon Schwartz notes:
New logo for US spy satellite from National Reconnaissance Office is weirdly similar to anti-communist propaganda: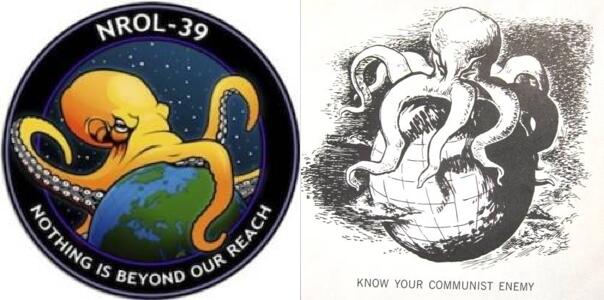 The National Reconnaissance Office is one of the "big five" U.S. Intelligence agencies, which designs, builds, and operates the spy satellites of the United States government, and provides satellite intelligence to several government agencies, including the NSA.
Category: Think Tank, War/Defense
Please use the comments to demonstrate your own ignorance, unfamiliarity with empirical data and lack of respect for scientific knowledge. Be sure to create straw men and argue against things I have neither said nor implied. If you could repeat previously discredited memes or steer the conversation into irrelevant, off topic discussions, it would be appreciated. Lastly, kindly forgo all civility in your discourse . . . you are, after all, anonymous.