I find this intriguing: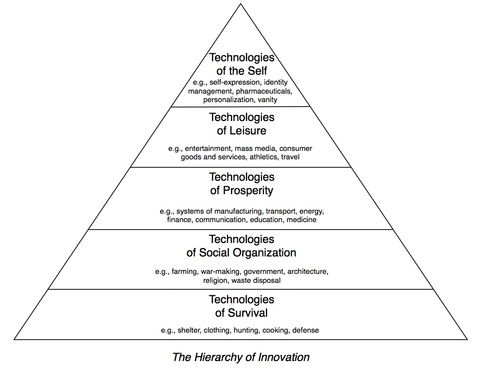 From Rough Type:
If progress is shaped by human needs, then general shifts in needs would also bring shifts in the nature of technological innovation. The tools we invent would move through the hierarchy of needs, from tools that help safeguard our bodies on up to tools that allow us to modify our internal states, from tools of survival to tools of the self.
Source: Rough Type
Category: Technology, Venture Capital
Please use the comments to demonstrate your own ignorance, unfamiliarity with empirical data and lack of respect for scientific knowledge. Be sure to create straw men and argue against things I have neither said nor implied. If you could repeat previously discredited memes or steer the conversation into irrelevant, off topic discussions, it would be appreciated. Lastly, kindly forgo all civility in your discourse . . . you are, after all, anonymous.
3 Responses to "The Hierarchy of Innovation"