Here is my afternoon train reading:
• How to Invest as Interest Rates Rise (WSJ)
• Why 2014 could be the most interesting year in technology in a long time (Quartz) see also Q&A with Marc Andreessen: Bubble Believers 'Don't Know What They're Talking About' (WSJ)
• Investors grow confident — or is it overconfident? — as stocks hit record highs (Yahoo Finance)
• Dr. Doomlove, or How Nouriel Roubini Learned to Stop Worrying (Businessweek)
• Hilsenrath's Takeaways: Highlights From Bernanke's Speech (WSJ) see also A Weekend of Fedspeak (Tim Duy's Fed Watch)
• 30 Under 30 (Forbes)
• MIT Economist Seeks Facts in Health-Care Policy Debate (Bloomberg)
• Ronald Rubin: How the 'Wolf of Wall Street' Really Did It (WSJ) see also Leonardo DiCaprio Addresses 'Wolf' Controversy: 'We're Not Condoning This Behavior' (Variety)
• This is Your Brain on Religion: Uncovering the science of belief (Salon)
• How Nobel-Winning Economic Theories Can Help Your Online Dating (WSJ)
What are you reading?
Millions See No Benefit From Soaring Stock Prices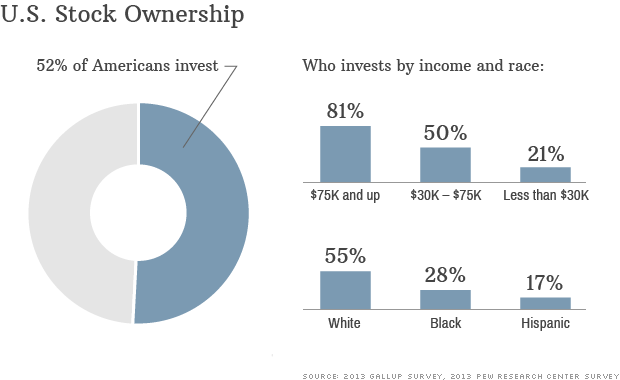 Source: CNN
Category: Financial Press
Please use the comments to demonstrate your own ignorance, unfamiliarity with empirical data and lack of respect for scientific knowledge. Be sure to create straw men and argue against things I have neither said nor implied. If you could repeat previously discredited memes or steer the conversation into irrelevant, off topic discussions, it would be appreciated. Lastly, kindly forgo all civility in your discourse . . . you are, after all, anonymous.
8 Responses to "10 Monday PM Reads"