Pour yourself a strong cuppa Joe, and start your Saturday morning with my longer form, weekend reads:
• Richard Branson: The Stuntman (London Review of Books)
• Meet DARPA's new generation of robots (Aeon) see also Your Job Taught to Machines Puts Half U.S. Work at Risk (Bloomberg)
• Edward Snowden SXSW: Full Transcription and Video (Inside)
• Drowning in Light: How Technology Feeds our Addiction to Light (Nautilus)
• Inside The Barista Class (The Awl)
• DataBall: The new Basketball Stats (Grantland) see also Meet the world's most marketed 12-year-old basketball player (Tampa Bay)
•  Exposing the big lie of the post-crash economy (TNR)
• The intolerance of uneconomic economics (Pieria)
• The Story Behind the Rob Ford Story (The Walrus)
• That Chop on the Upbeat: Junior Braithwaite and the history of Jamaican popular music (Oxford American)
60 and sunny in the NYC area — looks like a top down kinda day!
Number of U.S. Millionaires Reaches Record High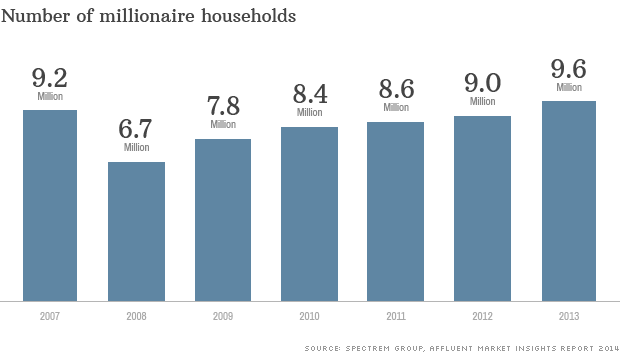 Source: CNN Money
Category: Financial Press
Please use the comments to demonstrate your own ignorance, unfamiliarity with empirical data and lack of respect for scientific knowledge. Be sure to create straw men and argue against things I have neither said nor implied. If you could repeat previously discredited memes or steer the conversation into irrelevant, off topic discussions, it would be appreciated. Lastly, kindly forgo all civility in your discourse . . . you are, after all, anonymous.
6 Responses to "10 Weekend Reads"