Good morning. Here are my favorite long form articles from this week:
• 5 Slumps That Shaped Modern Finance (Economist)
• Clean Coal Is the Future (Wired)
• The Germ Theory of Democracy, Dictatorship, and Your Cherished Beliefs (Pacific Standard)
• Greed Is Good: A 300-Year History of a Dangerous Idea (The Atlantic)
• Krugman: Why We're in a New Gilded Age (New York Review of Books)
• How to Buy Warhol, Degas and Renoir on the Cheap (WSJ)
• Herbalife: How lobbying dollars prop up pyramid schemes (The Verge)
• The Invention of the Slurpee (Priceonomics)
• The Crossroads of Should and Must (Medium)
• The Cube: A surprisingly sprightly history of the glum designs behind the world of modern work (Book Forum)
Whats up for the weekend?

Teen Survey On Device Ownership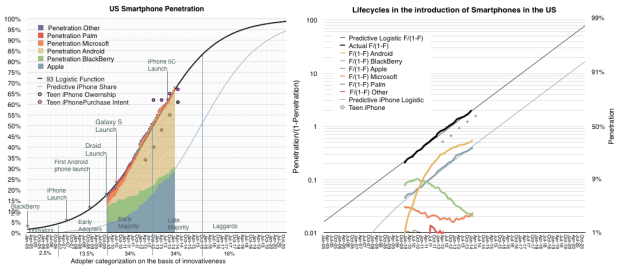 Source: Asymco
Category: Financial Press
Please use the comments to demonstrate your own ignorance, unfamiliarity with empirical data and lack of respect for scientific knowledge. Be sure to create straw men and argue against things I have neither said nor implied. If you could repeat previously discredited memes or steer the conversation into irrelevant, off topic discussions, it would be appreciated. Lastly, kindly forgo all civility in your discourse . . . you are, after all, anonymous.
13 Responses to "10 Weekend Reads"