Posts filed under "Energy"
The Japanese PM, Mr Abe, has repeated on Japanese TV this weekend that he expects the BoJ to confirm a policy to raise inflation to 2.0%, in the medium term. Given his continuing statements, a rejection of such a policy will be a major blow. However, recent comments by the current BoJ governor suggest that he will accede to such requests. In addition, Mr Abe has stated that he will appoint a "bold leader", diplomatic terminology for someone who will follow his instructions, as head of the BoJ, when the present governor, Mr Shirakawa retires in April this year. Looks like the Yen will weaken even further;
China is sending aircraft to counteract Japanese aircraft which have been intercepting flights by Chinese aircraft over the disputed islands in the South China seas. This issue, I will continue to repeat, has danger written all over it. Whilst a deliberate military act by either side is unlikely, an accidental confrontation becomes increasingly possible. Watch this issue extremely carefully. Japanese PM, Mr Abe has allegedly contacted NATO, to seek assistance to counter the Chinese naval presence in the South China seas – clearly NATO will not intervene, but other countries in the region are taking this matter seriously;
Pollution in major cities in China is increasingly becoming a major problem. Residents in Beijing have been advised to stay indoors as air pollution hit record levels. The cost of dealing with pollution in China, not just air pollution, but also poisoned rivers etc, are going to be crippling in coming years. In the medium to longer term, GDP is China will decline closer to 4% to 5.0%, quite possibly even lower;
Goldman's, UBS and ANZ have questioned the accuracy of the recent Chinese export data, which reported a rise of +14.1% Y/Y in exports. The increase doesn't match data of goods movements through ports and imports from trading partners according to UBS. Goldman's points to discrepancies for overseas orders in a manufacturing index. Well finally – a number of us have known for quite some time that Chinese data was, how shall I put it, "suspect". (Source Bloomberg);
Leaks, obviously from Saudi Arabian officials, state that the country has cut its oil production to just 9.025mn bpd in December, down from 9.49mn in November and the lowest since May 2011. The 30 year production high was 10.1mn bpd last June, ie production has been cut by 1mn bpd from its high. The cut in production resulted in Brent rising to US$113 last Thursday, through March Brent declined to around US$110 by the close of play on Friday. Saudi Arabia is responding to higher US, Canadian and Iraqi production. US production rose by approx 780k bpd in 2012 and is set to rise by 890k bpd this year. Iraqi production is expected to rise to 3.4mn bpd in 2013, up from 2.9mn bpd last year. Whilst well below its potential production levels, Iraq has faced massive logistical and political (with the Kurds) problems, which look set to continue. However, if they manage to resolve them (highly unlikely), Iraq production could well double in a few years. For their own part, the Kurds are shipping oil directly through Turkey, though as it is by truck, the amounts are relatively small – around 20k bpd. It looks as if the Saudi's are anticipating increased supply and are acting ahead of a potential price decline – unlikely to work;
Greek lawmakers have passed legislation to increase taxes by E2.3bn and to stop tax evasion. The introduction of such legislation was a prerequisite for Greece to get further aid from the EZ and the IMF;
Mr Draghi's more upbeat tone at the last ECB press conference was in stark contrast with previous meetings which were dogged by crisis fighting measures. Analysts have been quick to suggest that ECB interest rates will not be cut "for the foreseeable future". Hmmmm .Mr Draghi stated that signs of stabilisation were evident in "several" growth measures, as opposed to just "some" growth measures he referred to in December. He did acknowledge that recovery would come in H2 this year, a view I agree with, if only as Y/Y comparisons become easier. Importantly, Mr Draghi stated that ECB members had voted unanimously to keep interest rates on hold, which has sent the Euro soaring against the US$. Last month, the ECB admitted that the call to keep interest rates on hold, rather than cut them by 25 bps, was close. Another positive sign for the EZ was the announcement last Thursday that no banks had made use of its emergency overnight marginal lending facility, the 1st time since August 2011 and a sign that banks are facing less stress and,in addition, that interbank lending is rising.
At the press conference, Mr Draghi emphasised the increase in deposits in the peripheral EZ banks, increasing flows of capital into the EZ, a declining ECB balance sheet and a reduction in Target2 imbalances – clearly all positive developments. Mr Draghi ventured that the EZ was back to normal – Hmmmmm. There remains the peripheral EZ countries Mr Draghi and Cyprus looks like an upcoming problem.
However, as you know, I believe, the EZ will stabilise in H1 and, indeed, grow in H2. Current forecasts for a decline in GDP of some -0.3% for the current year appear too pessimistic in my humble view – I have forecast positive growth for the EZ this year – quite possibly +0.25% to +0.5%. German GDP forecasts of just +0.3% by the Bundesbank look way, way too pessimistic – I believe Germany will grow by +1.25%, indeed most likely higher. Yes, there are huge risks as I set out in my 2013 forecast, but for the moment the EZ outlook is improving – famous last words !!!!;
The US has privately briefed UK journalists that the"special relationship" between the US and the UK would end if the UK exited the EU. US officials state that they do not want to interfere with domestic UK politics. Yeah right. The reality is that the EU, ex the UK, will move further away from the US, in particular on foreign policy and defence related matters. As a result, the UK remaining in the EU will help the US, as the UK has always sided with the US. For full disclosure purposes, I have always been staunchly opposed to the UK remaining in the EU – it has proved to be an unmitigated disaster, in my opinion. The allegation that the UK can change the EU is a sham – the other EU members ignore and/or do not follow the UK's agenda. However, no matter how powerful, the US will need friends in the future – it will not "dump" the UK, who has proved to be a staunchly reliable partner. The special relationship is a nonsense. The US will pursue its interests, as it needs to and, increasingly, so will the UK. The UK PM, Mr Cameron is set to announce his plans for a referendum on continued UK membership of the EU, which is the reason for the US intervention.
Germany is also rethinking its relationship to the UK. With its "special relationship" with France likely to end in an acrimonious divorce, Germany needs a strong and credible partner in Europe and the UK is the only possible candidate. A relationship between the UK and Germany makes sense given that the countries are the financial and industrial powerhouses in Europe. The German's are likely to become more friendly towards the UK. However, the German's are not keen on the financial services sector – indeed, they deeply mistrust it.
Allegations of sanctions by the EU against the UK, if the UK leaves the EU are silly. The UK, imports far more from the EU – ie it will hurt the EU if they impose sanctions and/or withdraw trade deals. In terms of the financial services industry, the UK, free of EU anti financial sector legislation, will act as a spur to the industry. Furthermore, the UK is an international financial centre, not just an European financial centre. However, unfortunately, the bottom line is that the UK will not exit the EU, as my very well informed friends advise me;
The US November trade deficit of US$48.7bn, the largest since April, does suggest that the US economy is growing strongly. Indeed, the real deficit (adjusting for prices) rose to US$52bn, from US$46bn previously. In addition, the increased deficit will reduce Q4 GDP by as much as -0.75%. Exports were +1.0% higher, though imports surged by +3.8%. Imports of consumer goods rose by +11.2%. The numbers could have been distorted by the effects of Hurricane Sandy, though the the strength of the import numbers suggest that this is only a partial explanation. I had expected US Q4 GDP to come in at +1.75%, though these trade numbers suggest that Q4 GDP will be around +1.25% to +1.50% – other data has been more positive, which partially counteracts this negative development;
The US budget deficit contracted to just US$260mn, yep that's US$260mn, no typo, the lowest December deficit in 5 years and lower than the US$1bn forecast. The deficit in December 2011, was US$86bn. A great deal of the revenue generated in December was due to early payments of bonuses and dividends to avoid the tax increases in January. As a result, subsequent budget deficits will be higher than expected, though the 2.0% payroll tax, which starts on 1st January 2013 will compensate somewhat;
Investors seem to be moving out of bonds and into equities. No surprise. Net inflows into equity funds amounted to US$22.2bn in the week to 9th January, according to EPFR, the highest since September 2007. Flows into US equity funds amounted to US$10.4bn, with EM's receiving US$7.4bn. European equity funds were the laggard, increasing by just US$1bn;
Outlook
The fund flows into equities, both in DM's and EM's, whilst marginally positive into bond funds, except for inflows into EM bond funds which are rising, suggest to little old me that this rally has some legs. In addition, next Friday's Chinese GDP number should be positive – fears over a rising CPI last week were overdone – indeed, the CPI increase was predictable, due to the increase in fresh food prices in December, which were affected by the severe winter. The BoJ announces its policy decision on the 22nd January – likely to agree to a 2.0% inflation target, though with no set date – once again, equity positive In addition, an unemployment target could well be introduced, a la FED. Oil may well decline – positive for markets. However, the Citi US Economic Surprise Index is threatening to turn negative – not a good sign. Markets are overbought and I will look to reduce my holdings, most probably later this month.
The exit out of bonds into equities has begun. I continue to be bearish of bond markets, especially DM bond markets. In particular, I will look to short US, German, Japanese and UK bonds towards the end of the month – Japanese probably earlier. I will (hopefully) wait for a likely equity market sell off, with a corresponding bond rally, before acting.
The Euro looks set to rise to US$1.35, possibly somewhat higher. US GDP, to be released by the end of the month, looks like disappointing, given the larger US trade deficit, which could be Euro supportive. I shorted the Yen against the Euro, rather than against the US$. However, over US$1.35/US$1.36, I will look to short the Euro – the current Euro rise looks way overdone, in my humble opinion. Negative GDP data (Q4 may be -0.3% Q/Q lower) from Germany could negatively impact the Euro next week, it must be said.
My friends are bullish on Gold. With more "stability" around and weaker inflation, especially in DM's and my expectations of a stronger US$ in coming months, I have to say, I do not see the attractions. However, I have never really understood the attractions of gold I must admit.
There are some signs that oil prices (Brent) may decline due to increases in supply, as discussed above – great news if it happens, though bad news for countries such as Saudi Arabia, Russia etc. A decline in oil prices will reduce inflation, in particular, in EM's, as their inflation basket is more heavily weighted towards energy, though DM's will also benefit. There are some forecasts for Brent to decline below US$90 in 2014. That is really bad news for Russia, for example, who need over US$100 Brent to balance their budget. Going to be interesting.
Have a great weekend.
Kiron Sarkar
13th January 2013
Category: Energy, Think Tank
Tepco – and West Coast of America – Slammed with Radiation We've documented the spread of radiation from Fukushima to Tokyo for a year and a half.  See this, this, this, this, this and this. Unfortunately, as the following recent headlines from Ene News show, things are only getting worse: Tokyo area turned out to…Read More
Category: Energy, Think Tank
Peak Oil or Peak Energy? – A Happy Solution
By John Mauldin
December 10, 2012
Looking Over My Shoulder
It Takes an Entrepreneur
The Line of Death
Get a Job
Not Everyone Can Run a Surplus
Peak Oil or Peak Energy? – A Happy Solution
New York, Cleveland, and Europe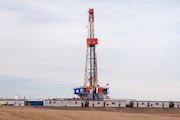 A consistent theme in this letter has been the connections between items that may seem to be far removed from each other but are actually linked at the very core. If you push on one end you get a reaction in what would seem to be the most unlikely spots. Today we explore the connection between the fiscal deficit and energy policy. Everyone in Washington is starting to "get religion" about wanting to fix the deficit, with serious thinkers on all sides acknowledging that there must be reform and a path to a balanced budget. Burgeoning healthcare and Social Security costs are rightly pointed to as the problem, and entitlement reform will soon be front and center.
But the fiscal (government) deficit in the US cannot go away unless we also deal with the trade deficit. As we will see, it is a simple accounting issue, and one based on 400 years of accepted accounting principles. And dealing with the trade deficit in the US means working with our energy policy.
The trade imbalances among the partners in the eurozone are at the heart of the problems there as well. And while we will get back to Europe in a few weeks (remember when we seemed to be focused on Europe and Greece for months on end?), today we will explore the trade problem from a US perspective. Happily, this problem, while serious, does have a workable solution. And it might even happen in spite of government policy, though if a proactive energy policy were developed, it could ignite a true economic renaissance.
I have been wanting to explore the implications of the shale oil revolution. Old oil fields are wearing out, as peak oil advocates point out. Where can we find the huge and cheap-to-exploit oil fields to replace them? Hasn't all the easy oil already been found? We will start in the Texas of my youth, journey to North Dakota where I was last week, and then think about the implications of that journey. There are many connections and interesting paths to explore. The letter will print a little long, as there are a lot of charts.
Looking Over My Shoulder
But first, this is the month when economists and investment analysts trot out their annual forecasts. I traditionally make mine the first week in January, after I read scores of other forecast the last three weeks of the year. It's just something I have done for many years. I make a point of reading those I suspect I might disagree with to help me with my own thinking. It helps keep me in the middle of the road.
This year you can share in that experience with me, if you like. I publish a service called Over My Shoulder, in which I highlight 5-10 items a week (out of the hundred or more that I read) that I think are worthy of your attention. My reading is quite eclectic and broad, which is reflected in my choices for posting. The subscribers to Over My Shoulder have given me very positive feedback, for which I am grateful.
In essence, I act as your personal filter for news that is important to your investments and money management, generally from sources you won't encounter in your own regular reading. This year in OMS I will highlight what I think are some of the better and more well-reasoned annual forecasts. I think you will find it quite useful. You can subscribe by going here. I am often told I should charge more for the service, but I think it is a reasonable price. I certainly charge less than I would if I were paying someone else to round up these pieces, and you get access to all my sources, some of which are quite pricey. You can subscribe risk-free and read and think along with me about the coming year. And now, come along with me to the Bakken.
It Takes an Entrepreneur
First though, I have to take you back to Wise County, Texas, about 60 miles west of Fort Worth. A Greek goat herder named Savas Paraskivoupolis (who changed his name to Mitchell) came to Galveston in 1905. His son George Mitchell worked his way through Texas A&M and got a degree in petroleum engineering. After the war, George teamed up with his brother Johnnie and Merlyn Christie. They drilled their first well in 1952, in what became known as the Boonesville Field in Wise County, near Bridgeport where I grew up. They went on to drill hundreds of gas wells but had to shut them down because they had no way to deliver the natural gas they found in abundance. The work was done at serious financial risk, but they just kept drilling and plugging those wells. Finally a contract for a pipeline was financed by an Illinois utility, and those wells went into production.
What started as Christie, Mitchell and Mitchell soon became a major employer in my little hometown and a powerful spur to the local economy. The future father-in-law of my childhood best friend was first permanent North Texas employee, back in the early 1950s, and he was eventually joined by the fathers of many of my friends.
Over the coming years Mitchell would drill over 10,000 wells, with over 1000 of them being wildcat or exploratory wells. He is a legend. His story is reminiscent of that of Walt Disney, who also lived constantly on the edge of crisis in the early days of his business. In the late '80s and early '90s Mitchell pioneered a new drilling method called horizontal drilling. It is still hard for me to imagine, that there is a small amount of flexibility in what seems like rigid steel pipe. Over hundreds of feet of drilling, they can turn a pipe inch by inch until it describes a 90° arc.
Everyone knew there was more gas deeper in the ground, but it was trapped in very tight shale formations. Mitchell and his engineers figured out how to put water under pressure back into the earth to create very minute fractures that allowed the gas and oil to be freed. This is the process known as hydraulic fracturing, or fracking. In the '90s and especially the last decade, there has once again been an oil and gas boom in Wise county, in what is called the Barnett Shale. Except, the Barnett Shale is a far more massive formation than the original Boonesville field. Once again Texas was at the center of US energy production. The new technology opened up vast new reserves that were impossible to get to just a few years ago.
And then it turned out there were potentially even larger shale oil fields scattered throughout the United States – and, as we are learning, seemingly everywhere in the world. The first modern oil wells were drilled in Poland in 1854 at around 100 feet in depth, and now exploratory wells show that 11,000 to 13,000 feet below the surface there is considerably more oil and gas in Poland and the surrounding region.
In contrast to today's deep wells, the legendary Drake Well was drilled in Titusville, Pennsylvania, in 1859 at a depth of 69 feet. And there is evidence of ancient oil drilling using bamboo pipes in China. Marco Polo remarked on bubbling springs of oil in what is now Azerbaijan.
And that brings us to the Bakken shale oil and gas fields. I was invited to speak to the customers of BNC Bank in North Dakota by its president and CEO, Greg Cleveland, last week. He graciously offered to take me on a helicopter tour of the Bakken Field if I would come a day early, which I of course agreed to do. As a special bonus, he arranged for Loren Kopseng to be our tour guide. Loren didn't drill the first well in the Bakken, but he was there by the time the third well went in, and he now owns a piece of about 20% of all the wells drilled in the region. (There are over 7,000 wells in the region and counting.)
Today the Bakken overshadows the Barnett. Notice in the graph below how rapid the growth has been. More recently, permits were granted for 904 wells in August, September, and October 2012, with October being the record with 370 wells.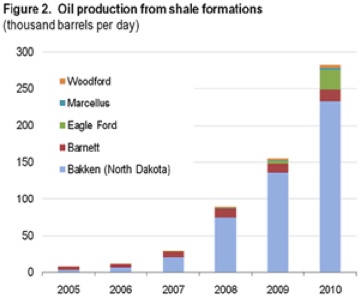 We flew the 50-odd miles from Bismarck to the edge of the Bakken, over the famous Badlands (which I found quietly beautiful) to what Loren called the line of death. On one side of the line, if you drilled you would get a dry hole. On the other side there is an amazing reported 99% success rate. The field stretches from western North Dakota and eastern Montana up into Saskatchewan, Canada.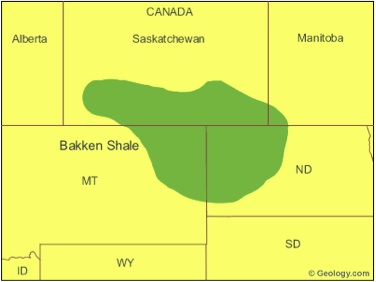 The Line of Death
Easy money, right? Just punch a hole in the ground and count your money. Today, perhaps, but not in the beginning. As we were flying, Loren asked me what I knew about oil drilling. I had to admit I didn't know much, except that my best friend Randy Scroggins from elementary school wouldn't let me invest in his oil company in 1981.
Category: Energy, Think Tank
The Telegraph – US to overtake Saudi Arabia in oil as China's water runs dry It is official. The US will overtake Saudi Arabia to become the world's top oil producer by 2017. The International Energy Agency (IEA) said in its world outlook for 2012 this morning that the US will be a net exporter…Read More
Category: Energy, Think Tank
Hurricane Sandy May Score a Direct Hit On Spent Fuel Pools at Nuclear Plant
Preface:  We hope and expect that the severity of the hurricane is being overblown, and that the nuclear plants in the Northeast will ride out the storm without any incident.  
We noted Friday that more than a dozen nuclear plants are near Hurricane Sandy's path.
Nuclear expert Arnie Gundersen says that there are actually 26 nuclear plants in the path of the hurricane, and that the spent fuel pools in the plants don't have backup pumps (summary via EneNews):
You'll hear in the next 2 days, "We've safely shutdown the plant"
What Fukushima taught us is that doesn't stop the decay heat
You need the diesels to keep the reactors cool
26 plants in the East Coast are in the area where Sandy is likely to hit
Fuel pools not cooled by diesels, no one wanted to buy them
If recent refuel, hot fuel will throw off more and more moisture from pool
Reactor buildings not meant to handle the high humidity
Fuel pool liner not really designed to approach boiling water, may unzip if water gets too hot
A lot of problems with allowing fuel pool to over
Need water in around 2 days if hot fuel in pool
The only fall-back if power is lost is to let fuel pools heat up
EneNews also reports that the hurricane is forecast to directly hit the Oyster Creek nuclear plant and that – while the plant is currently shut down for refueling – it still might very well have new, very hot fuel in the fuel pools:
Oyster Creek Nuclear Generating Station is located near New Jersey's shoreline in an area forecast to take a direct hit from Hurricane Sandy: "The current 'track center' for the landfall path is central New Jersey pointing Sandy in a path that would hit Oyster Creek nuclear station." -SimplyInfo
Category: Energy, Science, Think Tank
NRC Whistleblowers: Risk of Nuclear Melt-Down In U.S. Is Even HIGHER Than It Was at Fukushima Numerous American nuclear reactors are built within flood zones: As one example, on the following map (showing U.S. nuclear power plants built within earthquake zones), the red lines indicate the Mississippi and Missouri rivers: Numerous dam failures have occurred…Read More
Category: Energy, Think Tank
Oil & Tonight's Debate David R. Kotok October 22, 2012 The presidential debate tonight on foreign policy will quickly return to domestic economics if, as and when each of the antagonists can wiggle it in. In two more weeks we will quickly go from speculative uncertainty to new forecasts. The Senate composition will…Read More
Category: Energy, Politics, Think Tank
A Natural Gas Bounty Is Turning Against Producers click for ginormous graphic Source: NYT
Category: Digital Media, Energy