Posts filed under "Energy"
What should investors know about the solar industry? OneRoof Energy CEO David Field explains on Markets Hub.
Source: MarketBeat
Click to enlarge Source: Bloomberg The huge finds in Natural Gas and historically low prices on a per BTU basis is driving more more big energy consumers away from Crude Oil. This could lead to a global plateau in Oil demand by the end of the decade, according to Seth Kleinman, the head of…Read More
Category: Energy
The Japanese PM, Mr Abe, has repeated on Japanese TV this weekend that he expects the BoJ to confirm a policy to raise inflation to 2.0%, in the medium term. Given his continuing statements, a rejection of such a policy will be a major blow. However, recent comments by the current BoJ governor suggest that…Read More
Category: Energy, Think Tank
Tepco – and West Coast of America – Slammed with Radiation We've documented the spread of radiation from Fukushima to Tokyo for a year and a half.  See this, this, this, this, this and this. Unfortunately, as the following recent headlines from Ene News show, things are only getting worse: Tokyo area turned out to…Read More
Category: Energy, Think Tank
Peak Oil or Peak Energy? – A Happy Solution
By John Mauldin
December 10, 2012
Looking Over My Shoulder
It Takes an Entrepreneur
The Line of Death
Get a Job
Not Everyone Can Run a Surplus
Peak Oil or Peak Energy? – A Happy Solution
New York, Cleveland, and Europe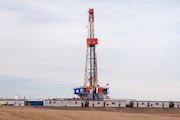 A consistent theme in this letter has been the connections between items that may seem to be far removed from each other but are actually linked at the very core. If you push on one end you get a reaction in what would seem to be the most unlikely spots. Today we explore the connection between the fiscal deficit and energy policy. Everyone in Washington is starting to "get religion" about wanting to fix the deficit, with serious thinkers on all sides acknowledging that there must be reform and a path to a balanced budget. Burgeoning healthcare and Social Security costs are rightly pointed to as the problem, and entitlement reform will soon be front and center.
But the fiscal (government) deficit in the US cannot go away unless we also deal with the trade deficit. As we will see, it is a simple accounting issue, and one based on 400 years of accepted accounting principles. And dealing with the trade deficit in the US means working with our energy policy.
The trade imbalances among the partners in the eurozone are at the heart of the problems there as well. And while we will get back to Europe in a few weeks (remember when we seemed to be focused on Europe and Greece for months on end?), today we will explore the trade problem from a US perspective. Happily, this problem, while serious, does have a workable solution. And it might even happen in spite of government policy, though if a proactive energy policy were developed, it could ignite a true economic renaissance.
I have been wanting to explore the implications of the shale oil revolution. Old oil fields are wearing out, as peak oil advocates point out. Where can we find the huge and cheap-to-exploit oil fields to replace them? Hasn't all the easy oil already been found? We will start in the Texas of my youth, journey to North Dakota where I was last week, and then think about the implications of that journey. There are many connections and interesting paths to explore. The letter will print a little long, as there are a lot of charts.
Looking Over My Shoulder
But first, this is the month when economists and investment analysts trot out their annual forecasts. I traditionally make mine the first week in January, after I read scores of other forecast the last three weeks of the year. It's just something I have done for many years. I make a point of reading those I suspect I might disagree with to help me with my own thinking. It helps keep me in the middle of the road.
This year you can share in that experience with me, if you like. I publish a service called Over My Shoulder, in which I highlight 5-10 items a week (out of the hundred or more that I read) that I think are worthy of your attention. My reading is quite eclectic and broad, which is reflected in my choices for posting. The subscribers to Over My Shoulder have given me very positive feedback, for which I am grateful.
In essence, I act as your personal filter for news that is important to your investments and money management, generally from sources you won't encounter in your own regular reading. This year in OMS I will highlight what I think are some of the better and more well-reasoned annual forecasts. I think you will find it quite useful. You can subscribe by going here. I am often told I should charge more for the service, but I think it is a reasonable price. I certainly charge less than I would if I were paying someone else to round up these pieces, and you get access to all my sources, some of which are quite pricey. You can subscribe risk-free and read and think along with me about the coming year. And now, come along with me to the Bakken.
It Takes an Entrepreneur
First though, I have to take you back to Wise County, Texas, about 60 miles west of Fort Worth. A Greek goat herder named Savas Paraskivoupolis (who changed his name to Mitchell) came to Galveston in 1905. His son George Mitchell worked his way through Texas A&M and got a degree in petroleum engineering. After the war, George teamed up with his brother Johnnie and Merlyn Christie. They drilled their first well in 1952, in what became known as the Boonesville Field in Wise County, near Bridgeport where I grew up. They went on to drill hundreds of gas wells but had to shut them down because they had no way to deliver the natural gas they found in abundance. The work was done at serious financial risk, but they just kept drilling and plugging those wells. Finally a contract for a pipeline was financed by an Illinois utility, and those wells went into production.
What started as Christie, Mitchell and Mitchell soon became a major employer in my little hometown and a powerful spur to the local economy. The future father-in-law of my childhood best friend was first permanent North Texas employee, back in the early 1950s, and he was eventually joined by the fathers of many of my friends.
Over the coming years Mitchell would drill over 10,000 wells, with over 1000 of them being wildcat or exploratory wells. He is a legend. His story is reminiscent of that of Walt Disney, who also lived constantly on the edge of crisis in the early days of his business. In the late '80s and early '90s Mitchell pioneered a new drilling method called horizontal drilling. It is still hard for me to imagine, that there is a small amount of flexibility in what seems like rigid steel pipe. Over hundreds of feet of drilling, they can turn a pipe inch by inch until it describes a 90° arc.
Everyone knew there was more gas deeper in the ground, but it was trapped in very tight shale formations. Mitchell and his engineers figured out how to put water under pressure back into the earth to create very minute fractures that allowed the gas and oil to be freed. This is the process known as hydraulic fracturing, or fracking. In the '90s and especially the last decade, there has once again been an oil and gas boom in Wise county, in what is called the Barnett Shale. Except, the Barnett Shale is a far more massive formation than the original Boonesville field. Once again Texas was at the center of US energy production. The new technology opened up vast new reserves that were impossible to get to just a few years ago.
And then it turned out there were potentially even larger shale oil fields scattered throughout the United States – and, as we are learning, seemingly everywhere in the world. The first modern oil wells were drilled in Poland in 1854 at around 100 feet in depth, and now exploratory wells show that 11,000 to 13,000 feet below the surface there is considerably more oil and gas in Poland and the surrounding region.
In contrast to today's deep wells, the legendary Drake Well was drilled in Titusville, Pennsylvania, in 1859 at a depth of 69 feet. And there is evidence of ancient oil drilling using bamboo pipes in China. Marco Polo remarked on bubbling springs of oil in what is now Azerbaijan.
And that brings us to the Bakken shale oil and gas fields. I was invited to speak to the customers of BNC Bank in North Dakota by its president and CEO, Greg Cleveland, last week. He graciously offered to take me on a helicopter tour of the Bakken Field if I would come a day early, which I of course agreed to do. As a special bonus, he arranged for Loren Kopseng to be our tour guide. Loren didn't drill the first well in the Bakken, but he was there by the time the third well went in, and he now owns a piece of about 20% of all the wells drilled in the region. (There are over 7,000 wells in the region and counting.)
Today the Bakken overshadows the Barnett. Notice in the graph below how rapid the growth has been. More recently, permits were granted for 904 wells in August, September, and October 2012, with October being the record with 370 wells.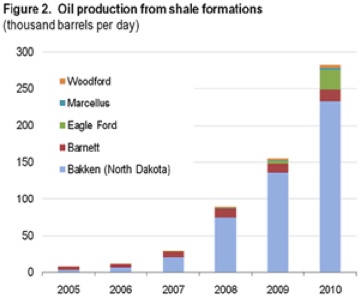 We flew the 50-odd miles from Bismarck to the edge of the Bakken, over the famous Badlands (which I found quietly beautiful) to what Loren called the line of death. On one side of the line, if you drilled you would get a dry hole. On the other side there is an amazing reported 99% success rate. The field stretches from western North Dakota and eastern Montana up into Saskatchewan, Canada.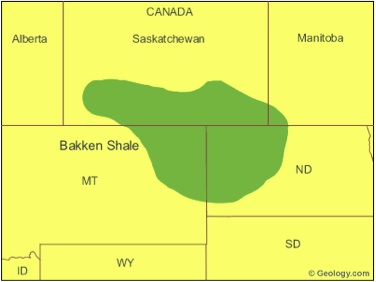 The Line of Death
Easy money, right? Just punch a hole in the ground and count your money. Today, perhaps, but not in the beginning. As we were flying, Loren asked me what I knew about oil drilling. I had to admit I didn't know much, except that my best friend Randy Scroggins from elementary school wouldn't let me invest in his oil company in 1981.
Category: Energy, Think Tank
The Telegraph – US to overtake Saudi Arabia in oil as China's water runs dry It is official. The US will overtake Saudi Arabia to become the world's top oil producer by 2017. The International Energy Agency (IEA) said in its world outlook for 2012 this morning that the US will be a net exporter…Read More
Category: Energy, Think Tank