Posts filed under "Foreclosures"
The absurdity of illegal activity, criminal conduct, rampant fraud has reached a point where the nation much declare "No More." We must begin the process of identifying criminal actors — and prosecuting them. The latest twist on the criminality/foreclosure fraud: The hiring of untrained, incompetent burger flippers to act as lawyers or paralegals in the…Read More
Category: Credit, Foreclosures, Legal
Yves Smith on Foreclosure Fraud:
>
click for video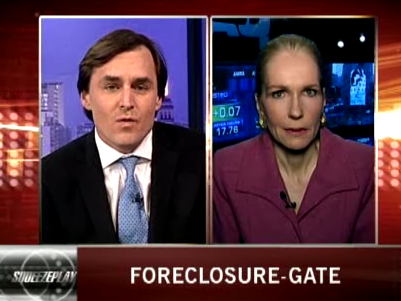 You can view the segment here.
Category: Foreclosures, Legal, Real Estate, Video
FT.com:
"Legal documents obtained by the Financial Times suggest that Wells Fargo, the second-largest US mortgage servicer, also used a "robo signer".

Unlike its rivals, Wells Fargo has not halted foreclosures. The San Francisco-based bank said on Tuesday it was reviewing some pending cases, but it has maintained that it has checks and balances designed to prevent serious procedural lapses.

In a sworn deposition on March 9 seen by the FT, Xee Moua, identified in court documents as a vice-president of loan documentation for Wells, said she signed as many as 500 foreclosure-related papers a day on behalf of the bank."
~~~
Source:
Wells adds to crisis over home seizures
Suzanne KapnerFT.com, October 14 2010 00:01
http://www.ft.com/cms/s/0/ed4aa856-d70b-11df-9cd5-00144feabdc0.html
Category: Credit, Foreclosures, Legal, Video
We have been covering the systemic Foreclosure fraud that has gone viral through out the US banking system over the past few days, months and year. This is a perfect example as to why bailouts are so ill advised: The government becomes reluctant to prosecute firms when they have a vested interest in their financial…Read More
Category: Bailouts, Financial Press, Foreclosures, Legal
Discussing possible solutions to the foreclosure fiasco, with Barry Ritholtz, Fusion IQ and CNBC's Diana Olick.
Airtime: Mon. Oct. 11 2010 | 5:00 DT ET
Category: Foreclosures, Legal, Media, Real Estate, Video
Ok, y'all obviously have lots to say about this subject — so what say we open it up to all comers: What are the banks doing wrong with foreclosures? What are they doing correctly? What are the negative consequences for the economy if the legal/financial/RE sector cannot untangle this mess? What is the best and…Read More
Category: Foreclosures, Legal, Real Estate
Mike Konczal of RortyBomb puts together a spectacular series of flow charts that explain in the simplest of terms how the bank foreclosure process went off of the rails, in Foreclosure Fraud For Dummies. > How Courts Process Foreclosures > Errors Began in the Syndication Process > From A-Z, Fraud is Endemic in the Entire…Read More
Category: Credit, Foreclosures, Legal, Real Estate