Posts filed under "Foreclosures"
>
October 14, 2010
Robert S. Mueller III
Director
Federal Bureau of Investigation
935 Pennsylvania Avenue, NW
Washington, DC 20535
Robert O'Neill
U.S. Attorney
Middle District of Florida
400 North Tampa Street, Suite 3200
Tampa, FL 33602
Dear U.S. Attorney O'Neill and Director Mueller,
When it comes to foreclosures, there is mounting evidence of a state of rampant lawlessness in Central Florida. There are increasing signs that big banks routinely evade laws meant to protect homeowners, in many well-documented cases of 'foreclosure fraud.' Despite the demonstrated existence, for instance, of 'robosigners' signing affidavits attesting to documents that they have never seen, the parties engaging in such misconduct are not being brought to justice. Big banks are mischaracterizing this as mere 'technical problems,' and apologizing only where there is clear and very public evidence of harm.
It is not enough for big banks only to apologize for fraud, perjury, and even breaking and entering – when they are caught. It is time for handcuffs. Fraud does not become legal just because a big bank does it.
On September 20, 2010, after my office found evidence of systemic foreclosure fraud perpetrated by big banks and foreclosure mills, I called for a halt to illegal foreclosures.
Since then, big banks such as Bank of America, JP Morgan Chase, GMAC, PNC and others have suspended foreclosures or foreclosure sales. These banks are still claiming that the massive fraud they have perpetrated amounts to nothing more than a series of technical mistakes. This is absurd. This is deliberate, systemic fraud, and it is a crime.
To give but two of the many available examples, attached is a deposition from an ex-employee of one of the largest 'foreclosure mills' in the state, the Law Offices of David Stern. In it, this employee testifies under oath that it was routine for that office to falsify documents regarding military records, in order to move foreclosure cases along more quickly.
The local media has reported on the case of Nancy Jacobini; a contractor for JP Morgan Chase broke into her home after the bank mistakenly foreclosed on it. JP Morgan Chase 'apologized' for terrifying her. But , US ; we have a system of laws. I am writing to ask you to enforce them.
The organized and systematic manufacturing of falsified documents to deprive people of their homes is not only a threat to the integrity of the legal system. It also aggravates and extends the weakness in the housing market. Who is going to feel comfortable buying a home if a big bank can simply take it, whether or not that bank has a right to it? Given the securitization of mortgage-backed securities, this misconduct is a threat to our securities markets as well. But fundamentally, this is a question of protecting basic
property rights – if you don't own it, then you shouldn't try to take it. Without clear property rights, and a legal system that insists on clear proof of those rights before transferring ownership by force, the economy will fall apart.
If perpetrators of perjured affidavits and other systematic criminal activity can get off simply with civil liability – or even less, an insincere bureaucratic apology – the freedom that Americans enjoy will erode quickly in the face of lawless seizures of property. I appreciate your work on the joint Middle District of Florida's Mortgage Fraud Initiative, and respectfully request that the efforts of your offices turn towards reining in this rampant criminality.
Regards,
Alan Grayson
Member of Congress
Category: Foreclosures, Legal
The absurdity of illegal activity, criminal conduct, rampant fraud has reached a point where the nation much declare "No More." We must begin the process of identifying criminal actors — and prosecuting them. The latest twist on the criminality/foreclosure fraud: The hiring of untrained, incompetent burger flippers to act as lawyers or paralegals in the…Read More
Category: Credit, Foreclosures, Legal
Yves Smith on Foreclosure Fraud:
>
click for video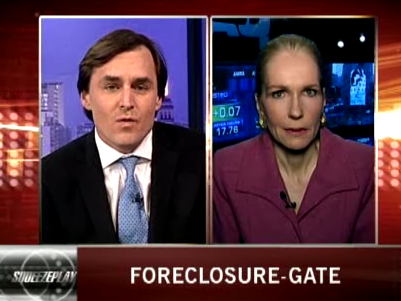 You can view the segment here.
Category: Foreclosures, Legal, Real Estate, Video
FT.com:
"Legal documents obtained by the Financial Times suggest that Wells Fargo, the second-largest US mortgage servicer, also used a "robo signer".

Unlike its rivals, Wells Fargo has not halted foreclosures. The San Francisco-based bank said on Tuesday it was reviewing some pending cases, but it has maintained that it has checks and balances designed to prevent serious procedural lapses.

In a sworn deposition on March 9 seen by the FT, Xee Moua, identified in court documents as a vice-president of loan documentation for Wells, said she signed as many as 500 foreclosure-related papers a day on behalf of the bank."
~~~
Source:
Wells adds to crisis over home seizures
Suzanne KapnerFT.com, October 14 2010 00:01
http://www.ft.com/cms/s/0/ed4aa856-d70b-11df-9cd5-00144feabdc0.html
Category: Credit, Foreclosures, Legal, Video
We have been covering the systemic Foreclosure fraud that has gone viral through out the US banking system over the past few days, months and year. This is a perfect example as to why bailouts are so ill advised: The government becomes reluctant to prosecute firms when they have a vested interest in their financial…Read More
Category: Bailouts, Financial Press, Foreclosures, Legal
Discussing possible solutions to the foreclosure fiasco, with Barry Ritholtz, Fusion IQ and CNBC's Diana Olick.
Airtime: Mon. Oct. 11 2010 | 5:00 DT ET
Category: Foreclosures, Legal, Media, Real Estate, Video
Ok, y'all obviously have lots to say about this subject — so what say we open it up to all comers: What are the banks doing wrong with foreclosures? What are they doing correctly? What are the negative consequences for the economy if the legal/financial/RE sector cannot untangle this mess? What is the best and…Read More
Category: Foreclosures, Legal, Real Estate