Posts filed under "Technology"
I find this intriguing: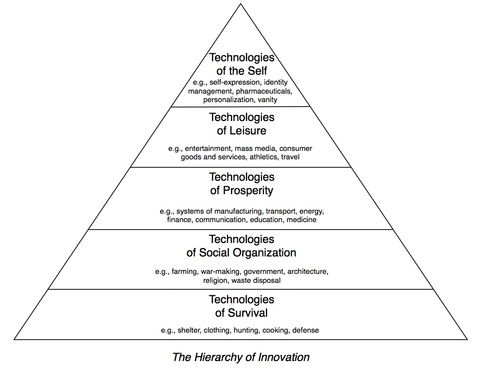 From Rough Type:
If progress is shaped by human needs, then general shifts in needs would also bring shifts in the nature of technological innovation. The tools we invent would move through the hierarchy of needs, from tools that help safeguard our bodies on up to tools that allow us to modify our internal states, from tools of survival to tools of the self.
Source: Rough Type
Category: Technology, Venture Capital
There will be blood. And fights, and cell phones deservedly jammed up peoples nether regions. It is the busiest travel day of the year today. I for one am giving thanks that we are staying local with the sibs instead of flying to Chicago as we typically do. As problematic as the weather is this…Read More
Category: Really, really bad calls, Technology, Travel
It is missing the Nakamichi Dragon and the Bang & Olufson BEO1500, but other than that . . . click for ginormous graphic via Pop Chart Lab
Category: Music, Technology, Weekend
Google parks a mysterious barge off of San Francisco and shares plans to prolong human existence. Jon Stewart Looks at Floaters The Daily Show Get More: Daily Show Full Episodes,The Daily Show on Facebook (05:07)
Category: Humor, Technology, Television
We showed this back in April 2012. Now its part of an Gareth Cook's infographic book The Best American Infographics 2013 What the heck, lets show it again: Thanks to the reminder from Farnam Street
Category: Digital Media, Humor, Technology, Weekend
For years after the dot-com bust, many stock investors wanted to see a company turn a profit before buying shares. The hype surrounding Twitter's IPO shows that is no longer the case. Telis Demos reports.
For Tech IPOs, It's Cool Again to Lose Money

Category: Technology, Video
Daring Fireball points out that following most new Apple product introductions, the stock price tends to fall: Here are the Steve Jobs product announcement stock action: • 23 October 2001, introduction of original iPod: AAPL fell about 5 percent. • 7 January 2002, Macworld Expo keynote: AAPL fell 4 percent. • 7 January 2003, Macworld…Read More
Category: Corporate Management, Investing, R&D, Technology