Posts filed under "Weekend"
From Flip Flop Flyin':
The colours and letters should be obvious, but just in case: S = singer, G = guitar, B = bass, D = drums, K = keyboards of various sorts, inc. computers or mixing equipments, T = turntables. If the singer regularly plays an instrument, they get a pink ring around the instrument. Multi-instrumentalists are shown with their main instrument. If you spot a mistake, feel free to email me. If you feel like writing me an email telling me that person X played the mandolin on three albums as well as the drums, please delete that email. On the whole, if there were different line-ups of bands, the classic line-up of a band is shown. (Obviously, there might be times when what I consider a classic line-up is different to what other people might consider a classic line-up.) Stage positions are approximated. There may well be footnotes. If you don't see your favourite band here, be patient, they are likely on my "to do" list. Thanks to Dana who suggested the name of this project.

Source: Flip Flop Flyin' h/t Paste
Category: Digital Media, Music, Weekend
Many years ago, I had a 1983 MB 380 SEC. It was the coupé version of the W126 S-Class — it was a giant rear drive 2 door version of the S class, chock full of technological advance of the day, including a seat belt presenter (really). At highway speed, it would lower itself. It wasn't fast off the line, but it was an autobahn cruiser. I drove it to Virginia and back several times and it would lope — at 90mph, it was practically idling, running at 2200 rpm. (I never pressed it to see what the top end was). I was rear ended in it by a Volvo, whose front end was destroyed; The big Benz never got so much as a scratch on it. It was solid as a bank vault.
The new most up to date version of the S coupe is out, and the it is Twin-Turbo 4.7L V8, 449 HP / 516 LB-FT, 7-Speed Auto, All-Wheel Drive S550 4MATIC Coupe  was just named Automobile Magazine's Design of the Year. My current lease (Infiniti M) is up in March 2016, and this would make a lovely replacement (if I could get Mrs. Big Picture to say yes to it!):
Source: Mercedes Benz, Automobile Magazine
More photos after the jump
Category: Weekend
After streaming this all for the past 4 days, I just ordered the new "Art of McCartney" 2 CD/1 DVD set from Amazon. The list of artists doing covers of Beatles/Wings/McCartney songs is fantastic: Disc 1 1. Maybe I'm Amazed Billy Joel 2. Things We Said Today Bob Dylan 3. Band on the Run Heart…Read More
click for more album info You can stream the entire new Paul McCartney album — 46 covers of the greatest Beatles, Wings and solo McCartney songs — below. The 2 CD + 1 DVD package is available at Amazon. You can stream individual tunes at YouTube, or stream the entire set below. …Read More
This HAS to be my next bargain auto purchase: Source: AutoWeek From AutoWeek: The 2015 Chevy Corvette Z06 will come out of the box with a sub-3-second 0-60 time and sub-11-second quarter-mile time. That puts the approximately $80,000 Z06 on par with the outgoing $180,000 Lamborghini Gallardo, the $1.5 million Ferrari 599XX, the $1.2 million…Read More
Category: Weekend
Paul Bourke, a research professor at the University of Western Australia, provides us a fly-through of the known universe, according to the 6dF Galaxy Survey: The 6dF Galaxy Survey has collected more than 120,000 redshifts over the southern sky over a 5 year period from 2001 to 2005. Its goal is to map our southern…Read More
From Speakeasy: Released in 1970, the song was the last single the Beatles released before the band split. Hynde's version echoes the original, opening with the iconic piano part and building into a symphony of backing vocals, guitars, bass and drums. Hynde shows the softer side of her tough-as-nails vocal style, the occasional catch in…Read More
Category: Friday Night Jazz, Music, Weekend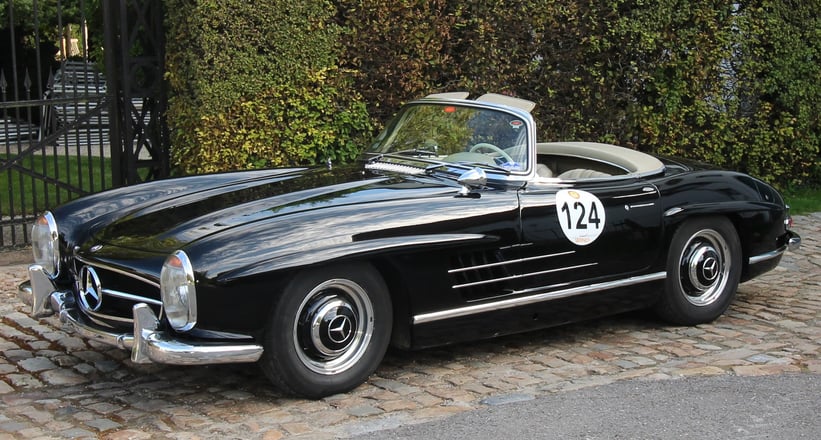 Source: Classic Driver
Category: Weekend
Interesting trike from Bombardier: Source: Robb Report From Robb Report: The Can-Am Spyder's oddball three-wheeled configuration polarized die-hard motorcyclists when it was launched in 2007. It was the brainchild of Bombardier Recreational Products (BRP)—the Canadian conglomerate responsible for the Ski-Doo snowmobile and the Sea-Doo personal watercraft—making the curious trike an appropriately disruptive force within the…Read More
Category: Weekend