We all know that Intrade Political Futures got the Joe Biden pick right last week — how well did it do with the GOP pick?
As it turns out, not so good. THEY COMPLETELY MISSED THE VEEP PICK. Not just off by a little, mind you, but off a ginormous amount.
As we have previously suggested, the political futures markets are essentially poll aggregators. There is very little wisdom amongst the crowd, other than looking at Rasmussen, Gallup, Roper, WSJ/NBC, NYT/CBS, etc. and taking a very rough average.
Just look at how the Palin VP futures Traded only yesterday: You could have bought her VP futures for 4 cents on the dollar! Some wisdom!
>
10 Day Chart
>
Lifetime Chart
>
Note that her lifetime futures chart is only 3 months old. Forget 18 months ago — as of 4 months ago, SHE WASN'T EVEN ON THE FUTURES TRADER'S RADAR. Over the life of the contract, she was never more 20%.
One week ago, she wasn't even in the top 3:
>
>
Dem VP Front Runners (8/22/08):

>
Note that this is not merely a case of the longshot coming in — Palin was not polling well, so the aggregators did not pay her much attention!
Previously:
Why Prediction Markets Fail (January 2008)
http://bigpicture.typepad.com/comments/2008/01/prediction-mark.html
Presidential Futures Markets: Spurious Predictive Powers (October 2004)
http://bigpicture.typepad.com/comments/2004/10/presidential_fu.html
Political Futures Markets? Bah, humbug (October 2004)
http://bigpicture.typepad.com/comments/2004/10/politcla_future.html
Category: Markets, Politics, Technical Analysis
Today's guest post comes from David J. Merkel, CFA, FSA. David is Chief Economist and Director of Research of Finacorp Securities. Previously, he has been a senior investment analyst at Hovde Capital, responsible for analysis and valuation of investment opportunities for the FIP funds, particularly of companies in the insurance industry. Prior to joining Hovde in 2003, Merkel managed corporate bonds for Dwight Asset Management. In 1998, he joined the Mount Washington Investment Group as the Asset Liability manager after working with F&G Life, Provident Mutual, AIG and Pacific Standard Life. Merkel holds bachelor's and master's degrees from Johns Hopkins University.

He writes daily commentary at Aleph blog.
Dave hits on a subject that has been a favorite of pundits a lot lately — what will it take for Housing to bottom . . .

~~~
This piece completes a series that I started RealMoney,
and continued at my blog. For
those with access to RealMoney, I did an article called The Fundamentals
of Market Tops, where I concluded in early 2004 that
we weren't at a top yet. For those without access, Barry Ritholtz put a large portion of it at his blog. I then
wrote another
piece at RM applying the framework to residential housing in mid-2005,
and I came to a different conclusion: yes, residential real estate [RRE] was
near its top. Recently, I posted a piece a number of readers asked me to
write: The Fundamentals
of Market Bottoms, where I concluded we weren't yet at a bottom for the equity markets.
This piece completes the series for now, and asks whether we are at the bottom for RRE
prices. If not, when, and how much more pain?
Before I start this piece, I have to deal with the issue of why RRE market tops and bottoms are different. The
signals for a bottom are not automatically the inverse of those for a top. Tops and bottoms for RRE are different
primarily because of debt investors. At market tops, typically credit
spreads are tight, but they have been tight for several years, while seemingly
cheap leverage builds up. There is a sense of invincibility for the RRE
market, and the financing markets reflect that. Bottoms are more jagged, with debt financing expensive to non-existent.
As a friend of mine once said, "To make a stock go to zero, it has to have a significant slug of debt." The
same is true of RRE and that is what differentiates tops from bottoms. At
tops, no one cares about the level of debt or financing terms. The rare
insolvencies that happen then are often due to fraud. But at bottoms, the
only thing that investors care about is the level of debt or financing terms.
Why Do RRE Defaults Happen?
It costs money to sell a home – around 5-10% of the sales price. In a
RRE bear market, those costs fall entirely on the seller. That's why economic incentives for the
owners of RRE decline once their equity on a mark-to-market basis declines
below that threshold. They no longer have equity so much as an option on the equity of the home, should they
continue to pay on their mortgage and prices rise.
As RRE prices have fallen, a larger percentage of the housing stock has fallen below the 10% equity threshold. Near the peak in October 2005, maybe 5% of all houses were below the threshold. Recently, I estimated that that figure was closer to 12%. It may go as high as
20% by the time we reach bottom.
Defaults occur in RRE when there would be negative equity in a sale, and a negative life
event occurs:
• Unemployment

• Death

• Disability

• Disaster

• Divorce

• Large
mortgage payment rise from a reset or a recast
The negative life events, which,
aside from changes in mortgage payments, can't be expected, cause the borrower
to give up and default. During a RRE
bear market, most people in a negative equity on sale position don't have a lot
of extra assets to fall back on, so anything that interrupts the normal flow of
income raises the odds of default. So
long as there are a large number of homes in a negative equity on sale position,
a certain percentage will keep sliding into foreclosure when negative life
events hit. For any individual, it is
random, but for the US as a whole, a predictable flow of foreclosures occur.
Examining Economic Actors as We near the Bottom
Category: Economy, Real Estate
What this country really needs is less tranparency in earnings reports, and more wiggle room for corporate reporting:
>
We are governed by utter idiots . . .

Similarities and Differences: A comparison of IFRS and US GAAP
Click for PDF
WSJ:
"The Securities and Exchange
Commission signaled the demise of U.S. accounting standards, kicking
off a process Wednesday that could ultimately require all publicly
listed American companies to follow an international model instead.

Introduced
in two steps, the shift could eventually cut costs for companies and
smooth cross-border investing. At the same time, investors worry it
will create confusion, especially during the transition. Other critics
worry that the international system offers too much wiggle room for
companies, compared with the more precise rules enshrined in U.S.
standards.

The SEC's proposal would allow some large
multinational companies to report earnings according to international
accounting beginning in 2010. The SEC estimates at least 110 U.S.
companies would qualify based on their market capitalization, among
other factors. The agency also laid out a road map by which all U.S.
companies would switch to International Financial Reporting Standards,
or IFRS, beginning in 2014, at the expense of U.S. Generally Accepted
Accounting Principles, the guiding light of accountants for decades.

The proposals will be open for public comment for 60 days and could be finalized later this year."
Anything that artificially boosts earnings is great for America . . .
>
Sources:
SEC Moves to Pull Plug On U.S. Accounting Standards
KARA SCANNELL and JOANNA SLATER
WSJ, August 28, 2008; Page A1
http://online.wsj.com/article/SB121985665095476825.html
SEC May Let Companies Abandon U.S. Accounting Rules
Jesse Westbrook
Bloomberg, Aug. 27 2008
http://www.bloomberg.com/apps/news?pid=newsarchive&sid=azXvW6B6aINg
Category: Corporate Management, Earnings, Taxes and Policy, Valuation, Video
Today's guest post comes from Eddy Elfenbein of Crossing Wall Street fame. Eddy is classic Graham & Dodd investor. He is an independent consultant and advisor based in Washington, DC. His background is in financial newsletter publishing, and prior to that he was a retail stock stock broker. He currently blogs at CrossingWallStreet.com.

For today's guest post, Eddy discusses Mexico's Guillermo Ortiz, who he describes as "Best Central Banker in the World Today."
~~~
Imagine a country whose central bank responded to growing inflation by raising interest rates, strengthening the currency and trying to win investor confidence. This may be shocking to some U.S. investors, but proper monetary policy is still being practiced. Just not here in the United States. I'd give the award for Best Central Banker in the World Today to Mexico's Guillermo Ortiz.
This is a story that truly ought to be better known. Mr. Ortiz has now been at the helm of the Mexican central bank for over ten years and despite many obstacles (consider that 70% of Mexicans don't even use banks), he's emerged as the anti-Greenspan. Mr. Ortiz previously served Finance Minister where he helped clean up the mess surrounding the peso devaluation in 1994.
What impresses me about Oritz, who earned has a Ph.D. from Stanford, is that he's made it unequivocally clear that the Banco de Mexico (or Banxico) intends to fight inflation until its wins. In the last three months, the bank has raised rates three times. Interest rates now stand at 8.25%, an amazing 625 basis points higher than in the U.S. even though inflation rates are roughly similar.
Make no mistake; the Mexican economy has its share of problems. Growth is slowing and inflation is on the rise. Of course, much of this is understandable considering their raucous, hung-over neighbors to the north—nearly 80% of Mexico's exports go to the U.S. Still, my money's on Ortiz. He's even had the chutzpah to criticize our monetary policy as being "very lax." Don't expect to hear anything like that from Senators McCain or Obama.
And what about that hopeless currency, the peso? Well, it's on a roll this year. The peso is already up 7.5% for the year and earlier this month, it reached a six-year high. In my opinion, the rate gap between the U.S. and Mexico will only grow. The futures market seems certain that the Fed will hold steady for the rest of the year, but I think Banxico could very well raise rates again. Their next meeting is on September 19.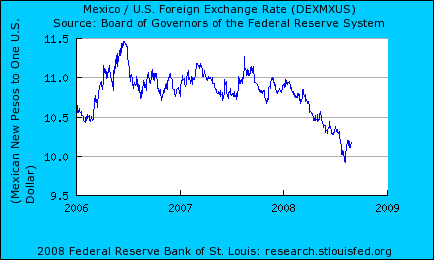 Category: Economy, Federal Reserve, Inflation