GDP is out, ticking higher to 3.3% rather than 2.7%
And if you believe that data, I also have a bridge for sale in Brooklyn.
Why the beat on the headline figure? Aside from the usual inflation nonsense, there were two other factors: Exports, which rose to 13.2% (versus earlier reported 9.2%) and Inventories, which also played a part in the apparent strength.
My fishing buddy John Silvia of Wachovia put it into context:
"The overwhelming story is that the export numbers have offset this domestic weakness in consumer spending and business investment. We have a domestic recession."
Also worth noting: larger than earlier reported gains in every single government expenditure category. If you are wondering why the government does not know what it is actually spending in near real time, welcome to the club.
Looking forward, I must note that Q3 does not have a stimulus package, but it *will* have a stronger dollar . . .
chart via Jake from EconomPic Data
>
Source:
GDP Second Quarter 2008 (Preliminary)
Bureau of Economic Analysis, U.S. Department of Commerce
8:30 A.M. EDT, THURSDAY, AUGUST 28, 2008BEA 08-38
http://www.bea.gov/newsreleases/national/gdp/gdpnewsrelease.htm
Today's guest post comes from Eddy Elfenbein of Crossing Wall Street fame. Eddy is classic Graham & Dodd investor. He is an independent consultant and advisor based in Washington, DC. His background is in financial newsletter publishing, and prior to that he was a retail stock stock broker. He currently blogs at CrossingWallStreet.com.

For today's guest post, Eddy discusses Mexico's Guillermo Ortiz, who he describes as "Best Central Banker in the World Today."
~~~
Imagine a country whose central bank responded to growing inflation by raising interest rates, strengthening the currency and trying to win investor confidence. This may be shocking to some U.S. investors, but proper monetary policy is still being practiced. Just not here in the United States. I'd give the award for Best Central Banker in the World Today to Mexico's Guillermo Ortiz.
This is a story that truly ought to be better known. Mr. Ortiz has now been at the helm of the Mexican central bank for over ten years and despite many obstacles (consider that 70% of Mexicans don't even use banks), he's emerged as the anti-Greenspan. Mr. Ortiz previously served Finance Minister where he helped clean up the mess surrounding the peso devaluation in 1994.
What impresses me about Oritz, who earned has a Ph.D. from Stanford, is that he's made it unequivocally clear that the Banco de Mexico (or Banxico) intends to fight inflation until its wins. In the last three months, the bank has raised rates three times. Interest rates now stand at 8.25%, an amazing 625 basis points higher than in the U.S. even though inflation rates are roughly similar.
Make no mistake; the Mexican economy has its share of problems. Growth is slowing and inflation is on the rise. Of course, much of this is understandable considering their raucous, hung-over neighbors to the north—nearly 80% of Mexico's exports go to the U.S. Still, my money's on Ortiz. He's even had the chutzpah to criticize our monetary policy as being "very lax." Don't expect to hear anything like that from Senators McCain or Obama.
And what about that hopeless currency, the peso? Well, it's on a roll this year. The peso is already up 7.5% for the year and earlier this month, it reached a six-year high. In my opinion, the rate gap between the U.S. and Mexico will only grow. The futures market seems certain that the Fed will hold steady for the rest of the year, but I think Banxico could very well raise rates again. Their next meeting is on September 19.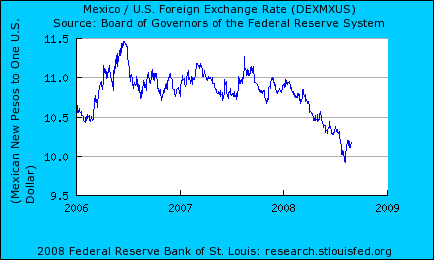 Category: Economy, Federal Reserve, Inflation
Via Mike Panzner, comes this list of the 50 down 50:
Since the S&P 500 hit a closing peak of 1565.15 on October 9th,
the benchmark has lost 18.11% (through this morning). However, 50
stocks, or 10% of the index constituents, have actually fallen by more
than 50%. Not surprisingly, the biggest losers are financials, though
the list also includes a few dogs from the auto, newspaper and
technology sectors, among others.
I am curious about the following: How many times has this happened before? What did the markets do 6, 12 and 24 months afterwards?
Click through for the infamous 50:
Category: Investing, Markets, Technical Analysis, Trading
Since we first mentioned IOUSA in early August, a lot more clips have become available.
Part 1
Part 2
Part 3
Part 4
>