This is such a handsome car — but I don't think I would b e able to relax and enjoy driving it given the rising collector price tag . . .
More photos after the jump
Category: Weekend
Skills, Education, and Employment
John Mauldin
May 11, 2013
David Rosenberg: A Bond Bull Turns Bearish
Wage Inflation?
Skills Versus Education
Kyle Bass and Japan
Tulsa, Atlanta, Nashville, and Brussels
"The large shortfall of employment relative to its maximum level has imposed huge burdens on all too many American households and represents a substantial social cost. In addition, prolonged economic weakness could harm the economy's productive potential for years to come. The long-term unemployed can see their skills erode, making these workers less attractive to employers. If these jobless workers were to become less employable, the natural rate of unemployment might rise or, to the extent that they leave the labor force, we could see a persistently lower rate of labor force participation."

- Janet L. Yellen, Vice-Chair, US Federal Reserve, March 4, 2013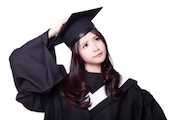 It is graduation time, and this morning finds me swimming in a sea of fresh young faces as a young friend graduates, along with a thousand classmates. But to what? I concluded my final formal education efforts in late 1974, in the midst of a stagflationary recession, so it was not the best of times to be looking for work. It turned out that I had a far different future ahead of me than I envisioned then. But I would trade places with any of those kids who graduated today, as my vision of the next 40 years is actually very optimistic. With all the advances in healthcare, technology, and communications that have come and will come, they will get to embrace a world full of opportunity; and yet, this generation is starting out with more than just a minor economic handicap.
This week's letter will explore changes in the work marketplace, changes that generated quite a lot of discussion at last week's Strategic Investment Conference. At the end of the letter I will also provide a link for qualified investors to listen in on a webinar conversation between Kyle Bass and me on another of the main topics last week: Japan. This is one you'll want to tune in to. (Warning: this letter will read fast but print long, as there are more than the usual number of charts and graphs, though the word count is actually shorter than usual.)
And a quick note up front on Japan. As of the last two weeks, Japanese investors are now net buyers of foreign bonds, and the yen has broken through 100 to the dollar. I think what is happening in Japan is going to be the nexus of a global flow of cash that will be unlike any we have ever seen. Attention MUST be paid. It is windshield time.
David Rosenberg: A Bond Bull Turns Bearish
How do we get to full employment and improved national education from the launching point of David Rosenberg's very recent call (at the conference and elsewhere) that we will soon see inflation and the onset of a bond bear market? I must say that he surprised a few of us with his conversion from bond bull to bond bear. But the reason why he converted surprised us even more. I am not going to be able to do justice to his impeccably reasoned, highly detailed presentation in this short space, but let me hit some highlights.
Specifically, Rosie thinks that the Fed is going to be surprised by wage-push inflation. How could we see inflation in wages in such a soft labor market? That was the first question in my mind, and the following charts give me some reasons for my question.
The present unemployment rate is still higher than at any time in the last 60 years, except after recessions. The Great Recession ended four years ago, and unemployment is still stubbornly high. Indeed, this is the slowest "jobs recovery" we have ever experienced. The current level of unemployment has never been seen four years after the end of a recession.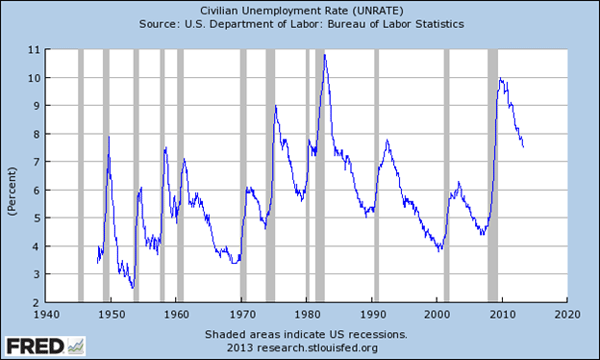 Category: Think Tank
Russian people have had the worst run of luck over the past few centuries — they have a reputation for being hardened. Here is a different perspective. via kottke
Category: Weekend
This is the presentation from the Witte Lecture Series at Newport Beach Library in California:
Category: Investing, Psychology
Brown M&Ms from Van Halen on Vimeo. Source: Wonkblog
"Being so skeptical about the usefulness of advice, I have been reluctant to lay down any 'rules' or guidelines on how to invest or speculate wisely. Still, there are a number of things I have learned from my own experience which might be worth listing for those who are able to muster the necessary self-discipline:…Read More
Pull up a chair, pour yourself a cup of joe, and enjoy our longer form reads: • The Money Shot: Mark Zuckerberg and Kevin Systrom on What Really Happened When Facebook Bought Instagram (Vanity Fair) • Turns out VCs are merely as lucky as Hedge Funds:  A Humbled Kleiner Perkins Adjusts Its Strategy (DealBook) • Math…Read More
Category: Financial Press
Drawing from some of the most pivotal points in his life, Steve Jobs, chief executive officer and co-founder of Apple Computer and of Pixar Animation Studios, urged graduates to pursue their dreams and see the opportunities in life's setbacks — including death itself — at the university's 114th Commencement on June 12, 2005.
Transcript of Steve Jobs' address:
http://news-service.stanford.edu/news…
Stanford University channel on YouTube:
http://www.youtube.com/stanford
Category: Philosophy, Video
Monitoring the Financial System
Chairman Ben S. Bernanke
At the 49th Annual Conference on Bank Structure and Competition sponsored by the Federal Reserve Bank of Chicago, Chicago, Illinois May 10, 2013
We are now more than four years beyond the most intense phase of the financial crisis, but its legacy remains. Our economy has not yet fully regained the jobs lost in the recession that accompanied the financial near collapse. And our financial system–despite significant healing over the past four years–continues to struggle with the economic, legal, and reputational consequences of the events of 2007 to 2009.
The crisis also engendered major shifts in financial regulatory policy and practice. Not since the Great Depression have we seen such extensive changes in financial regulation as those codified in the Dodd-Frank Wall Street Reform and Consumer Protection Act (Dodd-Frank Act) in the United States and, internationally, in the Basel III Accord and a range of other initiatives. This new regulatory framework is still under construction, but the Federal Reserve has already made significant changes to how it conceptualizes and carries out both its regulatory and supervisory role and its responsibility to foster financial stability.
In my remarks today I will discuss the Federal Reserve's efforts in an area that typically gets less attention than the writing and implementation of new rules–namely, our ongoing monitoring of the financial system. Of course, the Fed has always paid close attention to financial markets, for both regulatory and monetary policy purposes. However, in recent years, we have both greatly increased the resources we devote to monitoring and taken a more systematic and intensive approach, led by our Office of Financial Stability Policy and Research and drawing on substantial resources from across the Federal Reserve System. This monitoring informs the policy decisions of both the Federal Reserve Board and the Federal Open Market Committee as well as our work with other agencies.
The step-up in our monitoring is motivated importantly by a shift in financial regulation and supervision toward a more macroprudential, or systemic, approach, supplementing our traditional microprudential perspective focused primarily on the health of individual institutions and markets. In the spirit of this more systemic approach to oversight, the Dodd-Frank Act created the Financial Stability Oversight Council (FSOC), which is comprised of the heads of a number of federal and state regulatory agencies. The FSOC has fostered greater interaction among financial regulatory agencies as well as a sense of common responsibility for overall financial stability. Council members regularly discuss risks to financial stability and produce an annual report, which reviews potential risks and recommends ways to mitigate them.1 The Federal Reserve's broad-based monitoring efforts have been essential for promoting a close and well-informed collaboration with other FSOC members.
A Focus on Vulnerabilities
Ongoing monitoring of the financial system is vital to the macroprudential approach to regulation. Systemic risks can only be defused if they are first identified. That said, it is reasonable to ask whether systemic risks can in fact be reliably identified in advance; after all, neither the Federal Reserve nor economists in general predicted the past crisis. To respond to this point, I will distinguish, as I have elsewhere, between triggers and vulnerabilities.2 The triggers of any crisis are the particular events that touch off the crisis–the proximate causes, if you will. For the 2007-09 crisis, a prominent trigger was the losses suffered by holders of subprime mortgages. In contrast, the vulnerabilities associated with a crisis are preexisting features of the financial system that amplify and propagate the initial shocks. Examples of vulnerabilities include high levels of leverage, maturity transformation, interconnectedness, and complexity, all of which have the potential to magnify shocks to the financial system. Absent vulnerabilities, triggers might produce sizable losses to certain firms, investors, or asset classes but would generally not lead to full-blown financial crises; the collapse of the relatively small market for subprime mortgages, for example, would not have been nearly as consequential without preexisting fragilities in securitization practices and short-term funding markets which greatly increased its impact. Of course, monitoring can and does attempt to identify potential triggers–indications of an asset bubble, for example–but shocks of one kind or another are inevitable, so identifying and addressing vulnerabilities is key to ensuring that the financial system overall is robust. Moreover, attempts to address specific vulnerabilities can be supplemented by broader measures–such as requiring banks to hold more capital and liquidity–that make the system more resilient to a range of shocks.
Category: Federal Reserve, Think Tank